Table of Contents
Difference between FNSKU label and UPC, What is ASIN and SKU?
FNSKU Label and UPC for Amazon FBA
FNSKU label and UPC, What are they? You can send the items to the Amazon warehouse with just the UPC labels placed on the package, but it's better to provide the FNSKU code.  So which one do you need? you preferably need both a UPC and FNSKU, the FNSKU barcode is used by Amazon in to track the inventory in their internal databases because there are numerous products on Amazon out there and millions of UPC codes that are being used and Amazon wants to track its own barcodes or FNSKU numbers in order to really track your inventory to  keep it organized on Amazon's end. In some cases you need only the FNSKU number and not the UPC code if you are registered in Brand registry program. How to get FNSKU code from amazon? What is Amazon FBA UPC vs FNSKU? FNSKU Vs SKU? This blog shares all.
What is a UPC Code: FNSKU vs UPC
UPC is an abbreviation of universal product code, Usually Amazon asks you for a UPC code while creating your listing, it is one of the required field that you need to fill up unless you have an exemption from Amazon as some brands have an exception and they need only FNSKU Amazon. You need a UPC barcode when creating a product's listing You have to buy a UPC barcode from gs1, if your manufacturer doesn't provide one or you sell private label productsGS1 is an organization that develops and maintains global standards for business communication and licenses unique GS1 company prefixes. Currently Amazon is not accepting listings with UPC's that have not been registered or bought with GS1.
How to get a UPC code? Do you have a product you need to sell a product make sure you get a UPC code to track your sales?
you will need to visit this website www.gs1us.org  to be assigned a UPC for your product apply for a UPC by clicking on the apply Now button and then follow the prompts to complete the application process many of the questions in the application will ask you for 12-month projections it's okay to guesstimate  pay the application fee and an initial fee you will also be responsible for an annual $150 membership maintenance fee  the member kit to be emailed to you once your application is approved if you are in Canada visit the electronic commerce Council of Canada Although you can purchase cheap UPC codes from many places, one example being eBay, it's not too clever to do so. There are lots of vendors who sell barcodes which are not legitimate and you can't use them. The problem with barcodes purchased from providers other than GS1 is that Amazon started to double check for a while now if the UPC of one's listing matches the manufacturer of that listing. They are making it mandatory for every seller to use GS1 codes. Learn about Amazon FNSKU vs UPC below.
What is FNSKU and UPC label?
What is FNSKU label? The FNSKU is assigned by amazon fulfillment network and is an abbreviation Fulfillment Network Stock Keeping Unit.  Amazon fulfilment  centers recognizes a product as unique to the seller by the FNSKU label from all the other inventory in the warehouses or fulfillment centers.  It is for Amazon's internal purpose to track the product and identify it with the specific seller, this way the seller can receive credit when the item is sold. You need an Amazon FNSKU number on the product package, either print the labels or provide it to the manufacturer and they will print it on the package instead of the label. FNSKU label is also visible on the box shipping label when you print out the shipping label from Amazon And send it to the supplier It is 10 characters long and it is alpha numeric.
How to get the FNSKU labels barcodes?
How to get the FNSKU labels barcodes? So basically, the third step in the shipment creation workflow is labeling your Amazon products 1) go to your seller central2)Create the product listing3) click on manage inventory4) the third tab from the left is label products.4) On the products you're gonna be sending over to Amazon you click on the drop-down button and select "print item labels."It will take you to a page where you can print the barcodes. This step in the process will generate a print ready file that you can save for later or print using the right size of mailing labels the file will be formatted to print so you just need to add the blank labels to a laser printer. This way you get a nationwide barcode. You dont need any special FNSKU barcode generator. Here's a sample of what your label will look like they'll have a barcode a number corresponding to the barcode called an FNSKU and the product title in most cases the product title should be enough information for you to match labels to the correct product.
What is ASIN and SKU?
Every product in the Amazon catalog has a unique ASIN, ASIN is an Amazon Standard identification number,  it is always displayed in the product listing along with the BSR ( Best seller ranking)SKU is an abbreviation for Stock keeping unit, it is usually used to identify the product in the sellers catalog from sellers point of view so it is basically created by the seller, if you don't provide  the SKU information while creating a listing the system usually creates the SKU for you which might be random and alpha numeric. Still confused about FNSKU Vs Asin? Check out their definitions again.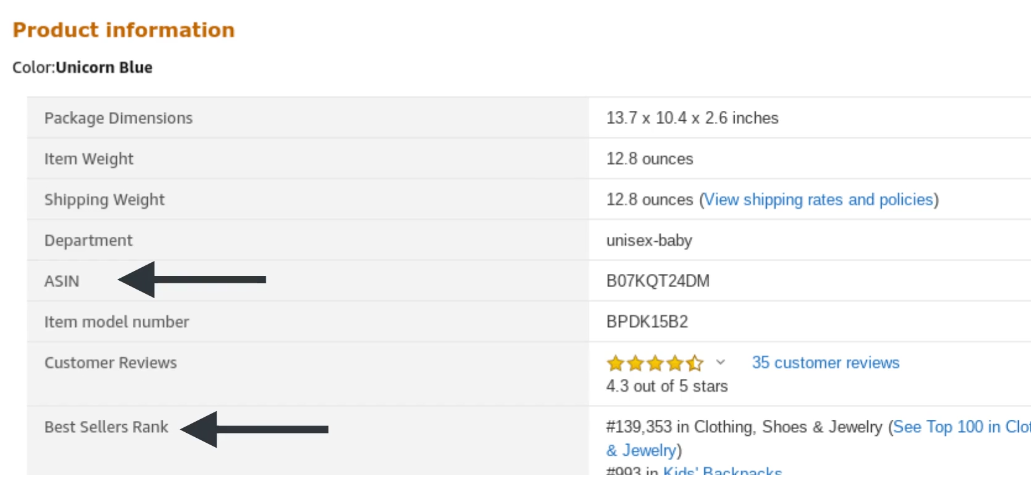 ​
​Check out the Article on how to sell on Amazon. You need to select a profitable niche to start making profit on Amazon.